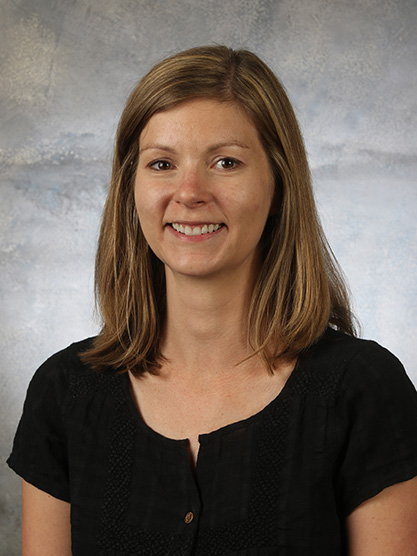 Associate Professor, Associate Chair
OCSE B331; laboratory OSCE B401
Education
2007-2008 Postdoctoral Research Associate, Muhlenberg College
2007 Ph.D. Environmental and Evolutionary Biology, West Virginia University, WV
2001 B.S Environmental and Forest Biology, SUNY College of Environmental Science and Forestry, NY
Professional Experience
Principal Investigator, Rocky Mountain Biological Laboratory, Gothic, CO, 2010-current
Coordinator of Undergraduate Research, Rocky Mountain Biological Laboratory, Gothic, CO, 2010-2017
Instructor for Methods in Field Ecology, Rocky Mountain Biological Laboratory, Gothic, CO, 2010-2011
Associate Professor, Biology, Massachusetts College of Liberal Arts, MA, 2008-2015
Research Interests
Plant-insect interactions, conservation of wild-harvested medicinal plants, rare plant monitoring and population biology
Selected Publications
Smith, B., Lowe, L., Owens, J., Mooney, E. (2018). Chemotypic variation in osha (Ligusticum porteri) in Colorado, USA. J. Appl. Res. Med. Aromat. Plants. In Press.
Robinson, A., Inouye, D. W., Ogilvie, J. E., & Mooney, E. H. (2017). Multitrophic interactions mediate the effects of climate change on herbivore abundance. Oecologia, 185(2), 181-190.
Mooney, E.H., Phillips, J. S., Tillberg, C.V., Sandrow, C., Nelson, A.S. & Mooney, K.A. (2016) Abiotic mediation of a mutualism drives herbivore abundance. Ecology Letters. 19(1), 37-44.
Mooney, E. H., Martin, A. A., & Blessin, R. P. (2015). Effects of light environment on recovery from harvest and antibacterial properties of oshá Ligusticum porteri (Apiaceae). Economic Botany, 69(1), 72-82.
Hoopes, M.F., Marsh, D.M., Beard, K.H., Goldberg, N., Aparicio, A., Arbuthnot, A. Hixon, B. Danielle Laflower, D., Lee, L., Little, A., Mooney, E., Pallette, A., Ravenscraft, A., Scheele, S., Stowe, K., Sykes, C.*, Watson, R., & Yang, B. 2013. Invasive plants in wildlife refuges. BioScience 63: 644-656.
McGraw, J.B., A. E. Lubbers, M. Van der Voort, E. H. Mooney, M. A. Furedi, S. Souther, J. B.Turner, and J Chandler. 2013. Ecology and conservation of ginseng (Panax quinquefolius) in a changing world. Annals of the New York Academy of Sciences 1286: 62-91.
Mooney, E.H., and R.A. Niesenbaum, 2012. Population-specific responses to light influence herbivory in the understory shrub Lindera benzoin. Ecology 93:2683–2692.
Mooney, E.H., M.J. Edwards, N.Z. Muth, R.A. Niesenbaum, 2010. Genetic differentiation between sun and shade habitats in populations of Lindera benzoin. Population Ecology 52(3): 417-425.